Uterine cavities are much smaller than what most gynecologists think
In the selection of an appropriate IUD little consideration is placed on adequacy of fit. Properly fitting IUDs will likely lead to less adverse effects or patient discomfort resulting in enhanced continuation of use.
We report on a multicenter study conducted at 3 centers in Germany and Switzerland in 152 nulliparous women, measuring the maximal width of the uterine cavity using 3D ultrasound.
Measurements were performed by experienced sonographists. The mean width of the uterine cavity in the fundus was 21.6 mm (range 6.0 - 40.0 mm). The median value was 22.0 mm and the IQR 18.0 - 24.8 mm, respectively. 82% of women had a uterine cavity width between 15 mm and 28 mm, 40% <20 mm and 6.6% <15 mm, respectively (Table 1 and Fig. 1).

Table 1. Maximal fundal width (FUD) in 152 nulliparous women as measured by 3D office sonography.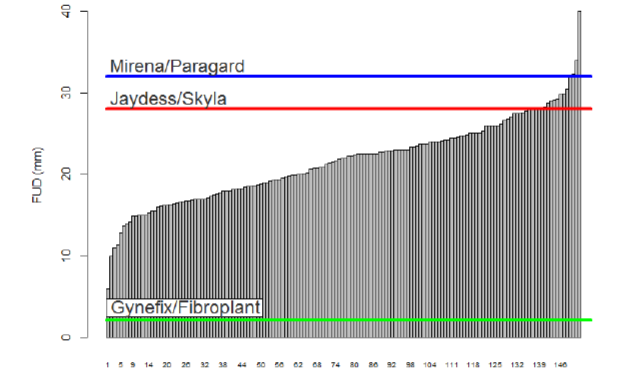 Figure 1. Collated individual maximal fundal widths by 3D sonography in 152 nulliparous women seeking IUD insertion or replacement. For comparison the transverse width for Mirena/Paragard (TCu380A), 32mm, Jaydess/Skyla, 28mm, and the frameless GyneFix (copper)/Fibroplant (LNG), 2.2 mm, are included.
Uterine cavities in nulliparous women are narrow and rarely wide enough to fit conventional IUDs. Gross discrepancy between the IUD and the uterine cavity leads to side effects (e.g., expulsion, embedment, bleeding, pain) and early discontinuation. Historically, devices too large for the uterine cavity have been routinely inserted which may account for their 5-year continuation rates being only 40 to 50%. The study suggests that 3D sonography is a precise method to measure the width of the uterine cavity (although 2D may also be suitable) and may result in the selection of a suitable IUD to maximize continuation of use. Measurement of the cavity width is not necessary with a frameless IUD.
Ref.: Nolte K, Jandi S, Julen O, Hasskamp T, Wildemeersch D. A multicenter study assessing uterine cavity width in over 150 nulliparous women with IUD or seeking IUD insertion using 3D sonography. Clin Obstet Gynecol Reprod Med 2016;2(3):193-198. full text
Ref.: Wildemeersch D, Hasskamp T, Nolte K, Jandi S, Pett A, Linden S, van Santen M, Julen O. A multicenter study assessing uterine cavity width in over 400 nulliparous women seeking IUD insertion using 2D and 3D sonography. Eur J Obstet Gynecol Reprod Biol. 2016 Sep 21;206:232-238. doi: 10.1016/j.ejogrb.2016.09.023. full text
About us
The author of this website is Dr Dirk Wildemeersch, MD, PhD. He is a devoted researcher in intrauterine contraception for over 30 years and a developer of innovative intrauterine concepts and advanced drug delivery technology for contraception, hormone replacement therapy, treatment of menorrhagia, and other female health needs.
View these documents...
Intrauterine systems: a frameless future?
Side effects of intrauterine devices are often related to disproportion with the endometrial cavity—is there a role for preinsertion ultrasound?
Why perimenopausal women should consider to use a levonorgestrel intrauterine system
The challenge to solve the expulsion problem of immediate postplacental insertion of IUD
How to become proficient with insertion of frameless IUDs?
Advantages of frameless intrauterine device and system in nulliparous and adolescent women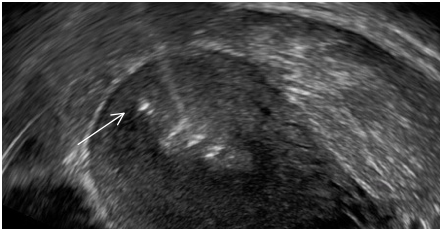 The visualized anchor is a key element in the optimization of the frameless technology with the aim to allow the provider to check its placement at insertion and at follow-up which enhances provider confidence and assurance.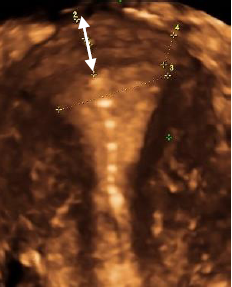 Exerting traction on the tenaculum will ensure midline insertion of the anchor. The uterine fundus is thickest in the midline.