The small frameless IUD does not significantly increase menstrual blood loss (MBL)
The impact on MBL with copper IUDs can be minimized by reducing the surface area of the foreign body. Reduction of MBL, without causing amenorrhea, can be obtained by adding levonorgestrel. The small frameless GyneFix IUD minimizes the impact on MBL.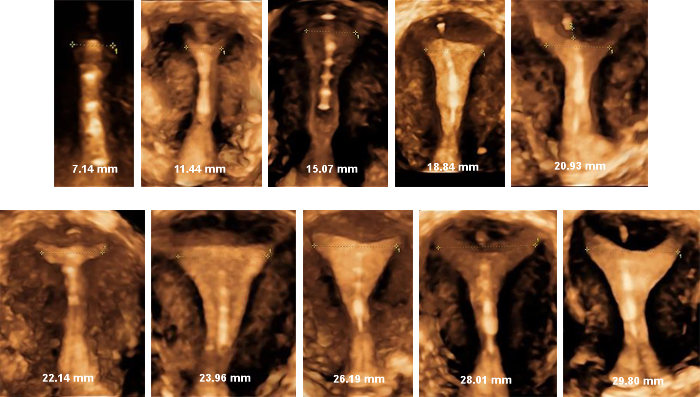 "Maximum comfort during prolonged IUD use and a high continuation rate is achieved by using an IUD of which the greatest transverse dimension of the IUD is equal or slightly in excess of the fundal transverse dimension" (H. Hasson). These geometric relationships pro­mote IUD retention and stability while minimizing endome­trial/myometrial trauma.
Size and shape are important considerations doctors should make prior to selecting an IUD.

Courtesy of Dr Sohela Jandi and Dr Kilian Nolte
The aim of our research is to maximize continuation of use of the intrauterine device (IUD) by minimizing side effects in order to reduce unintended pregnancies. Many IUD designs and shapes are a direct result of clinicians efforts to improve the performance of IUDs and reduce the overall level of their side effects. The IUD-cavity relationship and the tolerability of the device is paramount to achieving this aim.
The Ideal Cycle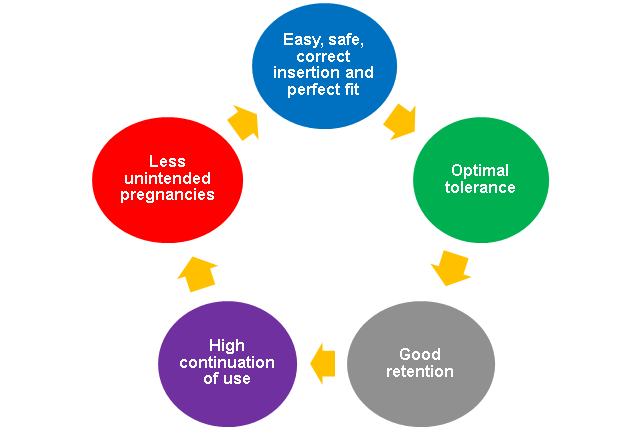 About us
The author of this website is Dr Dirk Wildemeersch, MD, PhD. He is a devoted researcher in intrauterine contraception for over 30 years and a developer of innovative intrauterine concepts and advanced drug delivery technology for contraception, hormone replacement therapy, treatment of menorrhagia, and other female health needs.
View these documents...
Intrauterine systems: a frameless future?
Side effects of intrauterine devices are often related to disproportion with the endometrial cavity—is there a role for preinsertion ultrasound?
Why perimenopausal women should consider to use a levonorgestrel intrauterine system
The challenge to solve the expulsion problem of immediate postplacental insertion of IUD
How to become proficient with insertion of frameless IUDs?
Advantages of frameless intrauterine device and system in nulliparous and adolescent women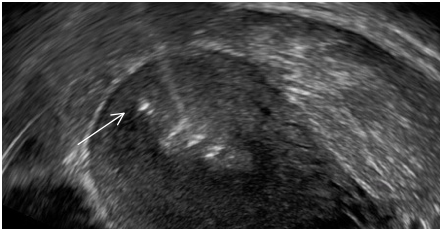 The visualized anchor is a key element in the optimization of the frameless technology with the aim to allow the provider to check its placement at insertion and at follow-up which enhances provider confidence and assurance.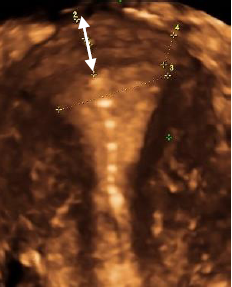 Exerting traction on the tenaculum will ensure midline insertion of the anchor. The uterine fundus is thickest in the midline.